Quality Control in Manufacturing
Raise your standards!
We support your project to ensure highest quality standards during manufacturing and construction. Our specialized optical measurement solutions and our highly-qualified technical team will assist you in manufacturing highest quality solar mirrors and concentrators.
Reflector Shape Inspection Systems
Highly accurate reflector panels are the precondition for high solar intercept factors. With its high resolution, unrivaled precision and measurement times of only few seconds, our QDec system is the jewel in the market of inspection systems for mass production of solar mirrors. It is a specially developed system for controlling the shape accuracy of flat and curved reflectors in a wide range of geometries. It uses a non-contact, optical measurement technique based on deflectometry. This technique is particularly well suited to quantify all relevant geometric quality parameters for all kind and sizes of reflecting materials in glass bending lines up to 100% control. The QDec system can be flexibly adapted to a large variety of reflector materials (glass and mirrors), geometries, measurement orientations and specific customer requirements.
Concentrator Support Structure 3D Inspection Systems
Concentrator support structure of parabolic troughs, heliostats or dishes support the reflecting mirrors at the correct place, in the correct orientation, and without introducing deformations to get a well performing concentrator. The required assembly accuracy is within millimeters or even less. Such large concentrator structures of up to 200 square meter aperture area can be perfectly measured by close-range photogrammetry. Our QFoto system is designed to be integrated in the assembly line. It inspects the 3D positions and orientations of all mirror and receiver support elements. The automatic measurement system is flexibly adapted to the specific requirements of the client's project. Using robust high-definition cameras with self-calibration, the system guarantees high measurement precisions and accuracies even under changing ambient conditions, a required feature for fabrication lines in desert environments.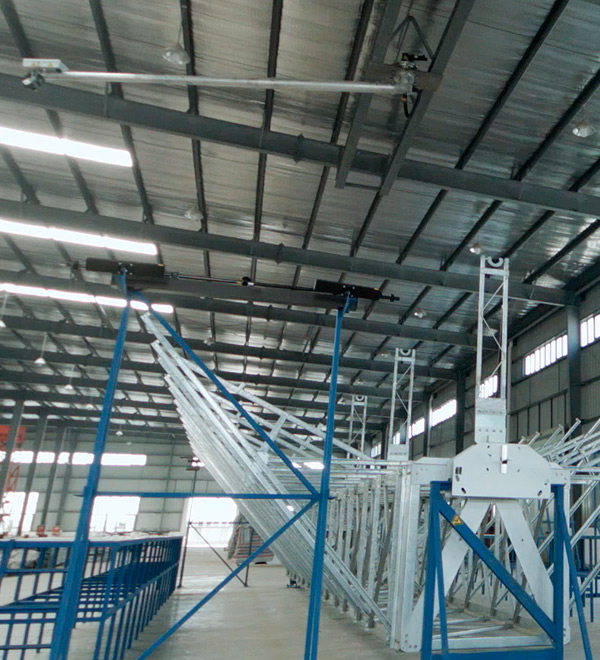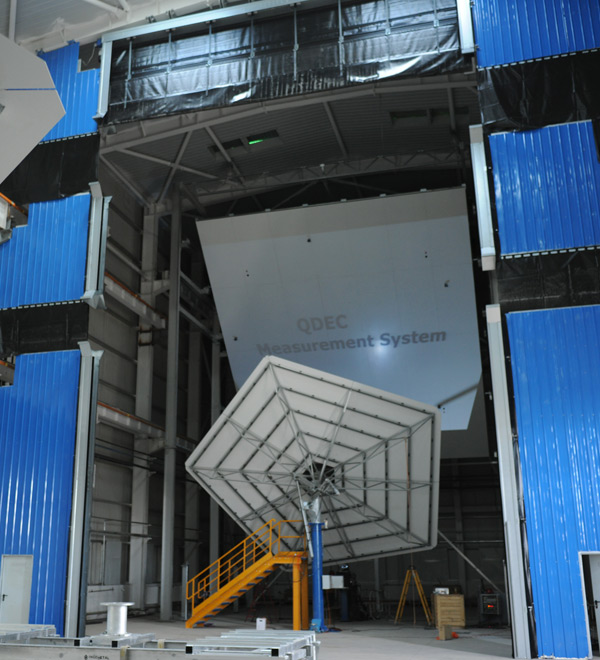 Concentrator Shape Inspection Systems
When mounting high-quality reflector panels on precise concentrator support structure, the assembled concentrators are supposed to perform also well. But to guarantee this, the complete concentrator – parabolic trough collector, heliostat or dish assembly – should be inspected in or after installation. There are some collector assembly processes (e.g. gluing) that make it mandatory to check the concentrator quality after its complete assembly. Combining our experience in deflectometry and photogrammetry we developed two systems that can perform measurements of each individual concentrator before leaving the assembly hall. QDec-M for heliostats and parabolic troughs uses image analysis of a series of illuminated lines reflected by all mirrors of these concentrators. QFoto-M is a specialized application of our QFoto system for heliostat shape measurement, using targets suspended in a mesh-like grid to fully-automatically evaluate the complete concentrator surface.
Technical Consulting in Concentrator Design and Assembly
With our vast experience in quality assessment in more than 90% of all globally installed CSP solar fields since 2007, we are able to support your project in preparing mature quality assurance concepts and procedures for fabrication. We help defining tolerance values and check workshop drawings for assembly jigs. Our experts also provide third-party 3D checks to optimize your assembly process, to assist you in the design and commissioning of balancing stations, and to provide assistance in the evaluation of the manufacturing quality.